Cheese Fruit Cake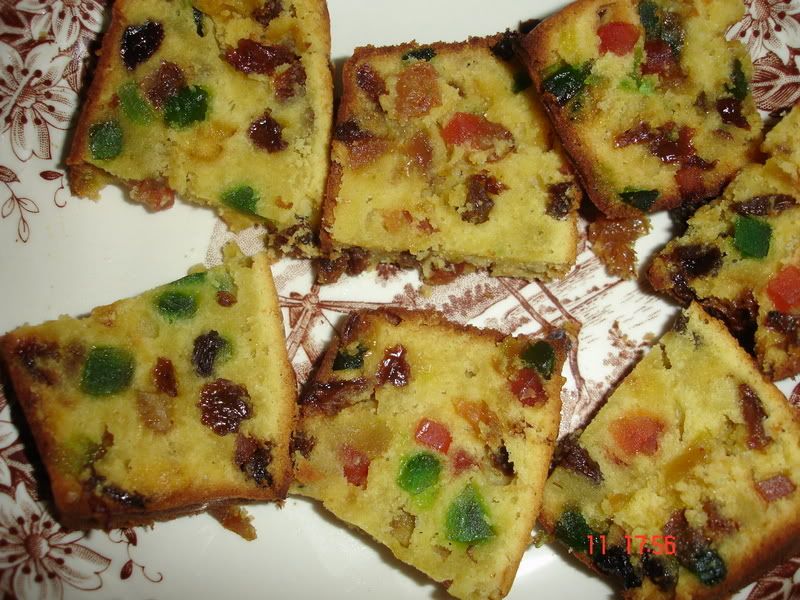 Cheese Fruit Cake Bebop
Resepi ni dapat dari mana lagi kalau tak 'Resepi Diana' blog. I have tried the recipe and hubby said the cake was good. Unfortunately, I don't really like the taste of the cake because I think the cake is a bit dry. Maybe I bake the cake too long. A few of my friend said that the cake was good. Anyway this is the recipe of the cake :
170 gm buah - buahan campuran
2 sudu besar jus oren
- buah buahan campuran digaul rata dgn jus oren dan diperap selama 2 jam
70 gm mentega
70 gm cream cheese
70 gm gula perang
2 biji telur
1 sudu kecil pes lemon
80 gm tepung gamdum
1/2 sudu kecil baking powder
Pukul mentega, cream cheese dan gula hingga kembang. Masukkan telur dan pes lemon. Pukul sebentar. Masukkan tepung gandum dan baking powder berselang seli dgn campuran buah yang telah diperap. Tuangkan adunan dalam loyang dan bakar pada suhu 170 darjah celcius selama 45 minit.
Comment : Definitely will try again to make the cake perfect